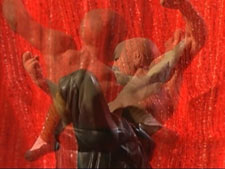 Wang Jyue Jen always told his students that his system of T'ien Shan P'ai originated in the T'ien Shan Mountains of Xinjiang Province. This province is located in the far northwestern corner of Mainland China. Legend had it that, toward the end of the Ming Dynasty, a monk named Hung Yun Szu, or "Red Cloud," was named boxing master of the Tien Shan Monastery.
The stories surrounding Red Cloud's acceptance into the order, his rise to prominence, his subsequent departure and travels to learn, perfect and incorporate other forms from other fighting systems into his own, and his ultimate return to the T'ien Shan mountains to establish a monastery, are perhaps, apocryphal…yet they speak to the rigor and devotion required by anyone seeking to become a master martial artist.
Two times in the 1980s, Grandmaster Lin went to Xinjiang Province to look for Red Cloud's temple. He couldn't find it.
After his teacher heard of his first trip, he asked Lin if he had found the temple. Lin said "no." Wang asked if Lin had seen "T'ien Tre" (or "Sky Lake") of which legend spoke. Lin said "yes", but there were no temples near that area. Wang then asked if Lin had gone to the other side of Sky Lake to search for Red Cloud's monastery, T'ien Shan P'ai's historic birthplace. Lin said "no."
During Lin's second trip to the T'ien Shan, he hired a farmer to take him by boat to the other side of the lake to look for Red Cloud's temple. He still found nothing.
Next, Lin asked the Xinjiang Province Wu Shu Association in the city of Ulumuchi, to help him research this temple. This Wu Shu Association could find no records to verify this temple's existence.
This same Association introduced Lin to a very elderly local martial artist. This old man told Lin he had never seen or heard of any temple in the Sky Lake area.

What Lin was able to discover during his trips to China was that part of Wang Jyue Jen's family continued to live in Wang's native Hsi Chuan Province. Grandmaster Lin is still in touch with many of these people until this day.
When Grandmaster Lin returned from his 2nd trip to T'ien Shan, Wang asked if Lin had tried to find the temple again. Lin affirmed that he had, but once he told of all he had learned, Wang Jyue Jen never spoke to Lin of this again.
Although Lin could not verify the roots of his teacher's system, he firmly believes it makes no difference. The fact is, a system known as T'ien Shan Pai, exists today, and it is practiced by hundreds of thousands around the world… simply because it's good, and because it works. This is T'ien Shan P'ai's true legacy.
As Grandmaster Lin is quick to affirm: "T'ien Shan Pai doesn't belong to just one person or to one generation. It belongs to everybody, and now…it belongs to the ages."
Back to T'ien Shan P'ai tips & articles
Don't miss the photos in our Gallery