The Grappling Series
The Chin-Na Volumes
Chin-Na
refers to the grappling techniques taught in the Kung Fu system know as T'ien Shan P'ai. The purpose of any Chin-Na is to control your opponent. While easily learned, mastery of these techniques requires a basic knowledge of pressure points and body mechanics. To master these techniques properly takes practice.
There is a difference between "doing" a technique, and "mastering" it. Mastered techniques are executed in harmony with, as well as in reaction to an aggressor's movement. They do not anticipate an opponent's move, but rather strive to "listen" to the opponent's "strength", and to react instinctively.
Chin-Na techniques are not about breaking bones or hurting people. They are simply about being able to control an opponent in order to defend yourself successfully.

Chin-Na Volume I
offers a comprehensive, in-depth look at Chin-Na defenses against grabs to the wrist and to the forearm. The reason T'ien Shan P'ai Chin-Na training begins here, is because this is the part of the body easiest for an attacker to grab. This volume also includes some counter techniques.
• Running Time: 41 minutes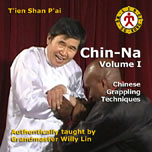 $39.95
plus shipping, handling & insurance
Canadian and Foreign orders
click here

Chin-Na Volume II
is a continuation of Volume I. It focuses on the more advanced techniques, which include grabs above the elbow, to the torso, against choke holds and head locks, and against being pushed or punched. Volume II assumes a familiarity with all that has been taught in Volume I.
• Running Time: 51 minutes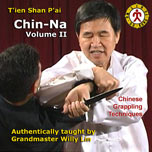 $39.95
plus shipping, handling & insurance
Canadian and Foreign orders
click here