T'ien Shan P'ai
T'ien Shan P'ai Kung Fu was introduced to the United States from China in 1970, by Grandmaster Willy Lin. This Martial Arts system offers a traditional approach to training. It teaches exercises for un-armed combat, for the use of Chinese weapons, and for self-defense. Its regimen promotes good health, fitness, and personal character development.

About Willy Lin
Grandmaster Lin was born in 1938. He has been practicing Martial Art for over 50 years.

From 1960 until he emigrated to the U.S., Willy Lin was head instructor and assistant to Wang, Jyue Jen, the martial artist who introduced T'ien Shan P'ai from China to Taiwan.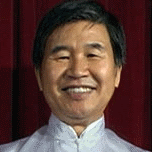 Senior Classmates Challenge Disciple's Claim

On November 7, 2009, a meeting was held in Taichung, Taiwan of senior students of Wang Jyue Jen's Lei Shung Wu Yuan School. All present had studied personally with...

Read More

The Truth About Tien Shan Pai

To tell what is true is always respectful. In this spirit, I would like to talk about what has remained a "gray area" with respect to the history of our system, for too many....

Read More
---


Ba-Chi, or "eight boxing movements", is an intermediate-level empty hand exercise. This form develops power, external strength and control over attacks from all directions.
Tu-Chi is a fast-paced intermediate-level two person empty hand set. It focuses on enhanced kicking skills, coordination and timing.

Learn More


$39.95

plus shipping, handling & insurance


Canadian & Foreign orders

click here